Click the cover to open and read a portion of the Owie Cadabra...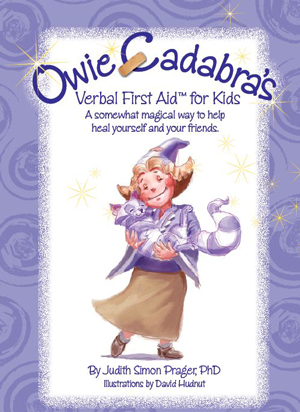 © 2010. Written by Judith Simon Prager, PhD, Illustrations by David Hudnut, Design by Rochelle Hampton
"Owie-Cadabra's Verbal First Aid will change the way children speak to themselves and their friends about crises big and small and help them know they have the ability to support their own healing."
~ Kathleen Archibald Simon, RN, HN_BC, Board Member of Children's Memorial Hospital, Chicago, IL
"When children learn this language of healing for themselves there is the opportunity for a generation to grow up more emotionally and physically healthy than occurs now. And who knows how much this might change our world!"
~ Susan J. Clark, MD, Director of Endocrinology, Children's Hospital of Orange County, CA
"If you have a child in your life, run out and buy this book! It's as necessary in every home as a box of Band-Aids."
~ Award-winning children's book author April Halprin Wayland
Praise for Judith Simon Prager's co-authored parenting book, Verbal First Aid: Help Kids Heal From Fear and Pain—And Come Out Strong:
"A profound prescription for nurturing our children and evolving civilization to the healthiest levels possible!""
~ Bruce Lipton, PhD